World Sailing's efforts to ensure the sanctity of One Design races
by David Schmidt July 30, 2019 4:00 PM UTC
July 30, 2019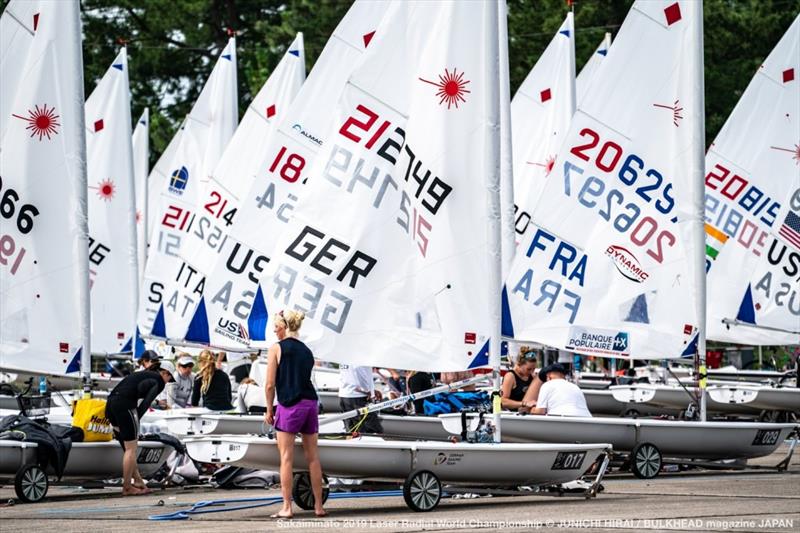 2019 Laser Radial World Championships © Junichi Hirai / Bulkhead Magazine Japan

If you've ever raced in handicap fleets, you're probably well aware of the critical role that ratings can play, both in terms of race outcome and in terms of long-term sail retention rates. Because of the inherent difficulties of racing a 30-something against a 40-something, many die-hard sailors looking for racetrack purity turn to One Design racing. After all, a given class of One Design boats are all identical, so any difference on the water has to come down to strategy, tactics, training and fitness, right?
In theory that's fine, but what if the boats and equipment aren't all the same or aren't up to class standard? This has been the case in the Laser class for some time, and this grim reality threatens the future of the world's most popular sailboat.
While this is an obvious concern at all levels of One Design racing, the stakes rise exponentially when it comes to Olympic level sailing and Olympic levels of competition, commitment and performance. accompanying stress.
As a result, World Sailing announced at the end of last week that the organization was implementing a new quality control and assurance plan as part of its wider equipment finalization process which will be used at the Paris 2024 Olympic Games.
"Based on feedback from sailors, coaches and Member National Authorities (MNAs), it has become clear that one-design equipment is not always delivered to an absolutely consistent standard, whereas one-design aims to guarantee that the equipment is identical", writes World Sailing in its official press release announcing the new QA/QC plan.
"Sailors must purchase and test multiple components to ensure they are sailing what they believe to be the best performing boat," continues World Sailing. "This results in increased Olympic campaign costs for Olympic sailors. MPs first raised this issue at the 2016 annual conference and in subsequent meetings. As a result, World Sailing is committed to resolving this issue in order to reduce costs and protect the integrity of the sport for all stakeholders."
To address the situation, World Sailing will begin charging a new manufacturer's fee which will be used to fund an independent QA/QC process that will help ensure the purity of Olympic-level competition and One Design racing on boats. Olympic class. Additionally, World Sailing says the new process will also help advance technological improvements within each class.
To fund the new QA/QC process, manufacturers will be charged a fee of up to 1% of the boat's retail price. Above all, each class will only finance its own tests. The actual costs of the new program will be transparently accounted for after the first year and any remaining money will be returned to builders; future fees will also be recalculated, class by class, after the first year to ensure that the correct amount is collected.
While this is a new QA/QC program that should help further level the playing field of what was already meant to be a horizontal playing field, cost-conscious competitors are reminded that this new manufacturer fee is entirely separate a plate fee (approximately 0.2% of the boat's retail price) charged by World Sailing.
It will be interesting to see how these new fees impact One Design's global shipping, both in terms of ensuring fair, high-quality races, and in terms of racetrack attendance. While no one likes incurring additional costs or seeing the cost of racing increase, it could be argued that it is much more expensive for the sport – measured in number of entries – if sailors lose faith in the sanctity of One Design races.
Speaking of high-level One Design racing, the 2019 ILCA Laser Radial World Championships just wrapped up on the waters of Miho Bay in Japan. On the men's side, Simon de Gendt (BEL) took the top step of the podium, followed by Zac West (AUS) and Guilherme Perez (BRA), while Anne-Marie Rindom (DEN) won the first price among women. followed by Marit Bouwmeester (NED) and Alison Young (GBR).
With no Canadian or American flagged male sailors competing in the Laser Radial World Championships, Charlotte Rose (USA) finished in eighth place on the women's side, followed by Paige Railey (USA) in 12th place, Erika Reineke (USA) in 21st place, Sarah Douglas (CAN) in 31st place and Clara Gravely (CAN) in 56th place.
"It's great to see Charlotte so competitive among the best sailors in the world," US Sailing Director of Olympic Development Leandro Spina said in an official press release. "Her success is a testament to the years of hard work she has put in and which the Olympic Development Program has been pleased to support with coaching resources and opportunities to train alongside world-class athletes like Paige. . [Railey] and Erika [Reineke]."
Meanwhile, in offshore sailing news, the awards have now all been determined and prizes awarded at the 50th Anniversary Transpac Race, which recently concluded the race on the waters off O'ahu, and the 2019 edition of the famous Fastnet Race is scheduled to take place on Saturday August 3rd.
Sail-World wishes safe, fast and fun passages for all Fastnet crew, and we have a lit candle that World Sailing's new builder fee will properly guarantee decades of unquestionably level One Design racing for sailors of all badges. One Design.
May the four winds bring you home safely.

David Schmitt
North American publisher of Sail-World.com