World Sailing Show Episode 5 recaps the 49er, 49erFX and Nacra 17 World Championships in Nova Scotia
by World Sailing Oct 3 03:09 PDT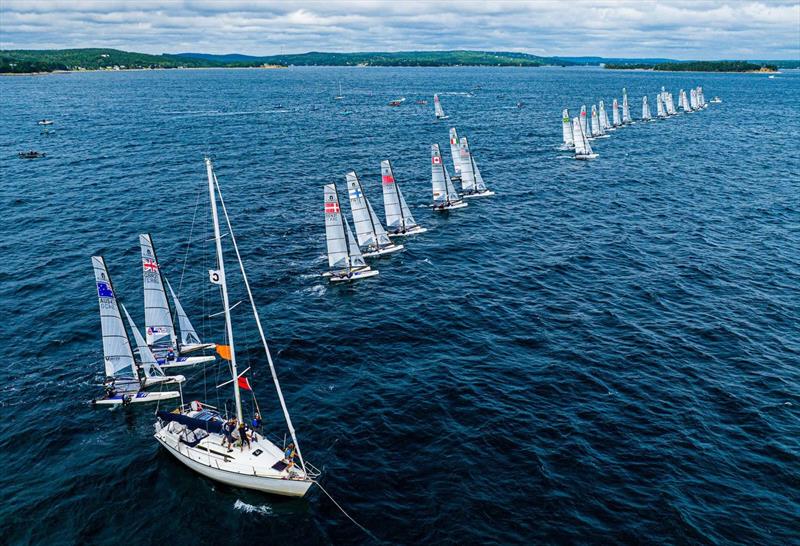 49er, 49erFX and Nacra 17 World Championships in Nova Scotia © Sailing Energy

The episode focuses on the recent 49er, 49erFX and Nacra 17 World Championships in Nova Scotia, Canada. In the main feature, we hear from new 49erFX World Champions, Dutch pair Odile van Aanholt and Annette Duetz, and recap the action in all three classes.
Focus on the 53rd multi-stage race of La Solitaire du Figaro
Present on the Maxi Yacht Rolex Cup
Interview with the current Rolex World Sailor of the Year, Tom Slingsby
Update on SailGP Season 3 – Saint-Tropez
Spotlight on the Inclusion World Championships in Rostock
The episode also includes an interview with current Rolex World Sailor of the Year, Tom Slingsby, who currently leads the Australian team in SailGP Season 3, where his team leads the fleet again for the second half of the season. season.
SailGP recently continued with Leg 5 in Saint-Tropez, France, and the World Sailing Show was there to capture the action. As well as hearing from Slingsby, there's an interview with Team USA's Jimmy Spithill ahead of his team's first victory and a look at how the French team set a new SailGP speed record of 99, 94 km/h.
Episode 5 also takes a look at the recent Inclusive World Championships in Rostock, Germany, where 25 inclusive teams from seven nations took to the water for four days of racing. The event was open to disabled sailors and their able-bodied partners and showed why sailing is such a unique sport.
Also on the program is the 53rd race of La Solitaire du Figaro which this month came to a thrilling conclusion on the final leg across the Bay of Biscay to the Spanish coast. The last stage was perhaps the only victory for French skipper Tom Laperche, but it was certainly the most decisive because his consistency in the two previous stages, his determination and his endurance allowed "La Porsche", like the call his colleagues from Figaro, to win the general classification. victory.
The Maxi Yacht Rolex Cup, the pinnacle of the International Maxi Association racing season, saw an excellent double win for Sweden with Svea winning the J class competition and the Swan 115 Shamanna winning the Super Maxi class, all two with a day to spare. Episode 5 of The World Sailing Show wraps up all the action.
Produced by Sunset + Vine and published monthly, the World Sailing Show shares the latest news, events and exciting stories from across the sport with audiences around the world. Each episode can be viewed for free on the World Sailing YouTube channel and on the World Sailing website.