World Sailing reaches 'pivotal moment' with LA28 Paralympic Games bid
by World Sailing Jul 5 16:05 UTC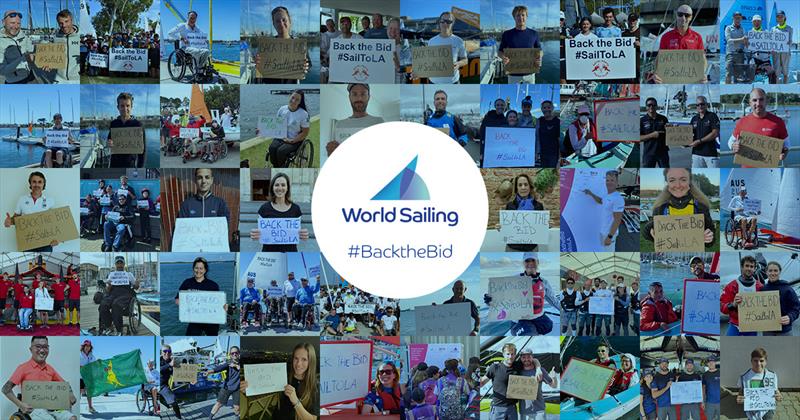 World Sailing reaches a "pivotal moment" with the LA28 Paralympic Games bid © World Sailing

World Sailing, the sport's global governing body, has taken a major step in its Paralympic quest by submitting the official bid for inclusion in the Paralympic Games Los Angeles 2028.
"Today is a pivotal moment – our LA28 offer for Para Sailing is launched.
"If our bid is successful, athletes from more than 46 countries on six continents will represent their nation at one of the greatest sporting events in the world. Our global sailing family has spoken loud and clear as they come together to #BacktheBid – to see this sport, which offers so much to so many people, at the Paralympic Games," said David Graham, CEO of World Sailing.
World Sailing's ambition to re-enter the Paralympic Games began when it was retired after Rio 2016.
"Now the International Paralympic Committee Board has the difficult task of evaluating applications from international federations vying for a place on the LA28 Games plan, which currently considers 22 Paralympic sports – the same number as Rio, Tokyo and Paris – but now with more sports looking for inclusion. Our work is far from done," Graham explained.

Spotlight on the parasailing bid
The rapid global growth of Para Sailing, the highly targeted approach World Sailing is taking to increase the number of female Para Sailers, and the fact that the sport is highly inclusive place it under consideration by the International Paralympic Committee, who will finally decide in January 2023.
"Para-sailing is thriving despite a difficult few years for the sport worldwide," Graham said. "We now have active Para Sailors in 41 countries across five continents. Our dedicated Para Sailing Development Program (PDP), established in 2017, has been key. We kicked off 2022 with our first PDP to be held in the Sultanate of Oman and just a week ago we held our very first PDP Para Kiteboarding."
Parasailing is one of the most inclusive sports there is with 44% of the top 10 sailors at the Para World Championships having high support needs.
Sailing is also one of the few sports where men and women can compete on equal terms – World Sailing's bid for LA28 reflects this with proposed mixed male and female crews, or fleets, in the three suggested classes. .

The Paralympic ambition of parasailing
World Sailing officially launched its Paralympic re-entry campaign last October, backed by world-renowned sailors and sports personalities.
Sailor Fia Fjelddahl, Sweden's youngest ever Paralympic athlete, was 17 when she was chosen as the flag bearer for the Rio 2016 closing ceremony:
"Six years later – two Games cycles later – I still can't put into words what it's like to carry the Swedish flag in Rio," said the sustainable engineering student.
"Our sport is on the rise. As sailors, we have a special affinity with what surrounds us – we are constantly listening and finding solutions to our natural environment and society. We have a lot to give to the Paralympic Games as everyone looks around the world to deepen the meaning of sport and how it can improve the world we all live in."
Sir Ben Ainslie CBE, the most successful sailor in Olympic history, winning medals at five consecutive Olympic Games from 1996 – including gold at the four Games held between 2000 and 2012 – is clear about his desire to see Paralympic sailors compete in Los Angeles:
"Sailing is so inclusive and gives so many people the opportunity to really work as a team, regardless of their physical abilities. That's why it's essential that sailing returns to the Paralympic Games for LA28."

The future of parasailing
In February, the International Paralympic Committee held a much-anticipated session with International Federations targeting LA28, outlining terms and timing – shortly after his participation, Graham announced that this was one of World Sailing's priorities.
"I said it in February, and I'll say it again now – our Para Sailing strategy is fully aligned with the IPC guiding principles, we can meet the criteria and demonstrate that Para Sailing is one of the most inclusive , diverse and universal sports on the planet today.
"As para-sailing has continued to grow since Rio and transform lives around the world, we are fully aware of how much the inclusion of the Paralympic Games helps to move para-sport forward – from grassroots to high-level competition. That's why our determination to get back into the Games is so strong.
"One thing is certain – the Chairman, Board, Council and staff of World Sailing are fully committed to the continued development of Para Sailing. This will continue, regardless of the outcome of our LA28 bid," concluded Graham.