World Sailing Presidential Bulletin: September 2020
by Kim Andersen, President World Sailing October 12, 2020 03:15 UTC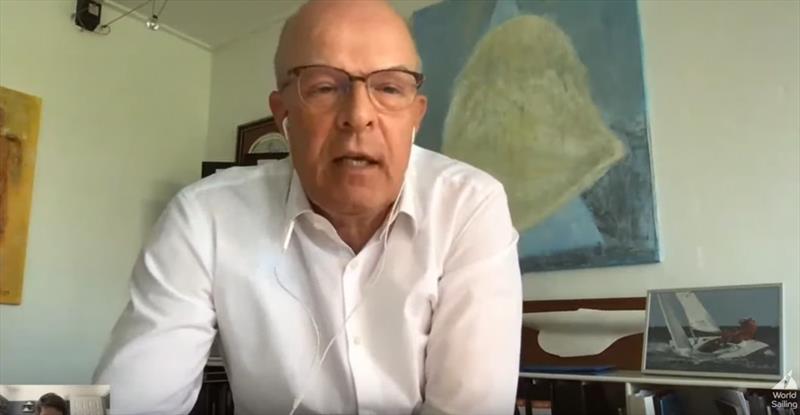 Kim Andersen, President, World Sailing © World Sailing

Over the past few weeks, it has been very encouraging to see sailing activities picking up around the world. Since we started learning more about the seriousness of COVID-19, our messaging on health and safety issues as well as the development of guidelines has gained tremendous momentum.
What we can see now is that sport is widely recognized as an essential factor in combating and recovering from the pandemic, which still persists in many countries. Sport is an integral part of our lives and the public eagerly awaits the return of recreational and professional activities. Fortunately, we can see that sport can be organized safely, even under the ongoing restrictions.
Looking ahead, this should give us all confidence in our preparations for future events, and I want to thank everyone who has brought us this far working tirelessly to bring sailing back. But we must continue to act responsibly when it comes to planning and scheduling our sporting events.
Although there are many more events in the pipeline, before these I would like to thank you all for your continued cooperation in our joint effort to bring hope and confidence to the sailing world to return to the "new" normal.

Planning for future continental and global events
We continue to learn how to organize events during the pandemic, and we see events such as cross-border championships and regional and continental championships organized under strict health and safety procedures.
Last month saw the historic Kiel week held, after its initial postponement from summer. In addition, several Championships have also taken place, including the EUROSAF European Mixed Offshore Championship and the European Formula Kite Mixed Team Relay Championship to name a few. And at the beginning of this month, the European Championships for the 49er, 49erFX and Nacra 17 classes took place in Austria.
The coming month will bring major events in the sport, such as the Vendée Globe, which kicks off in November, and the Sydney Hobart race at the end of 2020. The new year will then kick off with the America's Cup, followed by kick-off. of SailGP in April 2021. We look to the future with a positive outlook.

Sailing World Championships and Youth Sailing World Championships
As the Tokyo Olympics are scheduled to be held in 2021, this will unfortunately mean that the upcoming World Sailing Championships and World Youth Sailing Championships will both be postponed for a year.
The Youth Sailing World Championships, which were to be held in The Hague in July 2021, have been postponed to 2022, and the World Sailing Championships, which were to be held at the same venue in 2022, will take place in August 2023 instead. However, this will make Scheveningen the capital of competitive sailing, while The Ocean Race is also set to conquer Dutch shores.
The Youth Sailing World Championships and World Sailing Championships are two of the most important sailing events an athlete can aspire to attend. The Sailing World Championships in particular are a spectacle where top sailors aim for world championship glory and an Olympic qualification berth. The postponement of Tokyo 2020 has forced sailors to reset and adjust their campaigns. By hosting the World Sailing Championships in 2023, sailors will have more time to focus on the event when Tokyo 2020 wraps up next summer.

Tokyo 2020 Olympic Games Updates
Planning for the Tokyo 2020 Olympics is progressing well. Together with the IOC, we envision the entire venue adopting a series of measures to make the Olympic Games Tokyo 2020 suitable for a post-corona world. In response to the postponement of this year's Games due to the current health pandemic, more than 50 measures have been designed to maximize cost savings and increase efficiency in the delivery of the Games.
Tokyo 2020 Coordination Commission Chairman John Coates said: "Based on the principles laid out by the joint IOC and Tokyo 2020 Steering Committee, these optimizations and simplifications mark an important step towards achieving safe and secure Games. successful in 2021. We owe it to the public. to adopt these measures in these difficult times, which is why we have spared no effort and will continue to seek other opportunities in the coming months. The unique task of revamping the Olympic Games has called on the Olympic Movement to be stronger together – this step illustrates our collective commitment. The "Tokyo Model" will not only deliver Games suitable for a post-coronavirus world, it will become a model that will benefit future Organizing Committees for many years to come."
The World Sailing Events team and technical delegates are working with the Tokyo 2020 Organizing Committee to secure the sailing venue and ensure that we run a safe and successful sailing event in Enoshima.

World Sailing is proud to launch the women's sailing festival "Steering the Course"
In early October, we proudly launched the Women's Sailing Festival, Piloting the Cape.
Supported by the IOC Development Fund, Steering the Course is a sailing festival focused on women and girls. It aims to introduce women and girls around the world to the sport of sailing, as well as to encourage alternative paths for those who already practice the sport, such as coaching or refereeing.
Following the launch of the World Sailing Trust's Women in Sailing Strategic Review, there is much more we can do to increase participation and support female sailors.
Steering the Course will be held worldwide in 2021 and will take place over a 10-day period across two separate events. One event will take place in the Northern Hemisphere and the other in the Southern Hemisphere – the festival will bring together sailing communities from all walks of life, with events taking place in several countries at the same time.
From dinghy to keelboat, from windsurfing to kitesurfing, all disciplines are welcome at the festival. National authorities who are members of World Sailing are invited to register for Steering the Course and then to commit their clubs and sailing centers to participate.
World Sailing will provide support to each MNA with various resources including session plans, electronic resources such as banner and t-shirt designs, and social media promotion and support throughout the festival. Learn more about this great initiative here.

Virtual World Sailing Annual Conference
World Sailing's virtual annual meeting is taking place this month, including the election of the World Sailing Board of Directors. It is so encouraging to see so many candidates interested in contributing to our sport. Sailing has so much to offer, but in order for us to continue delivering good work to our MPs, we need committed leadership with fresh and new ideas so that we get the best results for the future of sailing. .
Personally, I look forward to seeing you all there virtually and look forward to hosting another successful annual conference. If any of our MPs have any questions regarding the election or the virtual organization of our conference, please be sure to contact . Good luck to all of the candidates !
Feel free to contact me via , www.facebook.com/KimAndersenSailing, or twitter.com/KimAndersen. As always, I'm glad to hear from you.