World Sailing launches the 2024 Challenge
by World Sailing Aug 13, 2019 04:44 UTC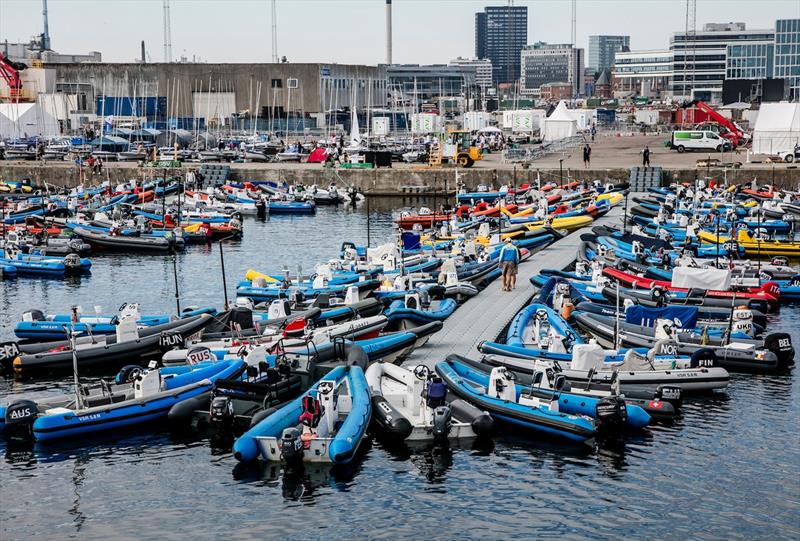 Coach boats at the 2018 Hempel World Championships © Sailing Energy / World Sailing

World Sailing, the sport's global governing body, has issued an ambitious challenge to the maritime industry to push the boundaries of low-carbon innovation for support boats at international events.
Entitled Challenge 2024 and announced during the Solar and Energy Boat Challenge of the Monaco Yacht Club, it is closely linked to the objectives of the 2030 Agenda for sustainable development of World Sailing.
The objectives are related to the use of coaches and support boats in order to:
Reduce by 50% (compared to 2017) the number of coach boats equipped with combustion engines that are allowed on Olympic-class events organized by World Sailing by 2024. This will depend on safety;

Clarify that all official boats (depending on safety) used in Olympic-class events organized by World Sailing will not rely solely on fossil fuels for propulsion by 2025.
World Sailing Commercial Director Scott Over gave a presentation at the Solar and Energy Boat event, presenting a business and environmental case for a change from traditional combustion engines on support boats.
Research has shown that emissions from fuel used at World Sailing events account for almost 30% of its overall carbon footprint.
Over featured alongside Formula E which has accelerated automotive sector investment in electric technologies. The aim is that this model can be applied to the wider maritime industry, not just World Sailing events, so that similar boats can be used for rescue and leisure activities.
The 2024 Challenge parameters are based on data collected by World Sailing and its partners as well as research from leading marine institutions such as the University of Southampton and TU Delft. Desired boat parameters include:
RIB of about 6 meters

Non-combustible engine

Version designed to be shipped – stackable with a removable console

A range of eight hours with an average speed of 10 knots and a maximum of 30 knots

Life cycle analysis to apply to construction

Affordable
Dan Reading, Head of Sustainability at World Sailing, said: "We want to challenge the industry to deliver solutions that will reduce the carbon footprint and running costs of support boats at sailing events. Our members have agreed to policy changes to reduce the number of support boats. during our events but we also want to encourage a decarbonized fleet developed and accessible to all.
"Looking at the whole life cycle assessment is a critical part of the puzzle and building on the research, we are confident that solutions will be in place by 2024.
"We are encouraged that the Dutch sailing team has already expressed its bold commitment to using zero-emission RIBs at the 2022 World Championships in The Hague. We also share an ambition with Paris 2024 and will work together on how we can both contribute to the transition to low carbon support boats.
"Adding further momentum to this challenge and contributing to World Sailing's 2030 sustainability program, SailGP recently released an FRP detailing its ambition to source hybrid boats for various purposes.
"Challenge 2024 is one of the initiatives that World Sailing is implementing as part of its participation in the UN's Climate and Sport Framework for Action on Climate Change, as well as other sporting events such as the IOC, Paris 2024, the World Surf League, SailGP and all the major tennis tournaments.
Georgina Grenon, Environmental Excellence Director for Paris 2024, said: "Paris 2024 is committed to delivering fully carbon-neutral Olympic and Paralympic Games. The organizing committee is looking for innovative solutions that will help reduce the climate and environmental impact of sporting activities, and reducing the use of combustion engines is clearly a goal. An important first step in this direction began in July 2019, with the launch (in collaboration with the French State) of a call for projects to replace diesel generators with eco-generators. for the provision of temporary and emergency electricity services. Naturally, the land transport fleets for the Olympic family and the support fleets for water sports should follow."
Boat builders, engineers and other experts in the field should contact Sustainability Manager Dan Reading at .

2030 Sustainable Development Agenda
Ratified at World Sailing's 2018 Mid-Year Meeting in London, World Sailing's 2030 Sustainability Agenda outlines how sport will contribute to the United Nations Sustainable Development Goals. The 2030 sustainability program is divided into six main operational areas of World Sailing with a total of 56 different objectives. Goals range from participation to gender equality, water quality to single-use plastic.
Supported by the International Olympic Committee and World Sailing partners, the implementation of the 2030 Sustainability Agenda will continue with varying timelines to achieve the goals.
To learn more, visit www.sailing.org/about/Sustainability.php.