World Sailing launches sustainability charter for special events at Cowes SailGP
by World Sailing Aug 9, 2019 22:24 UTC
August 9, 2019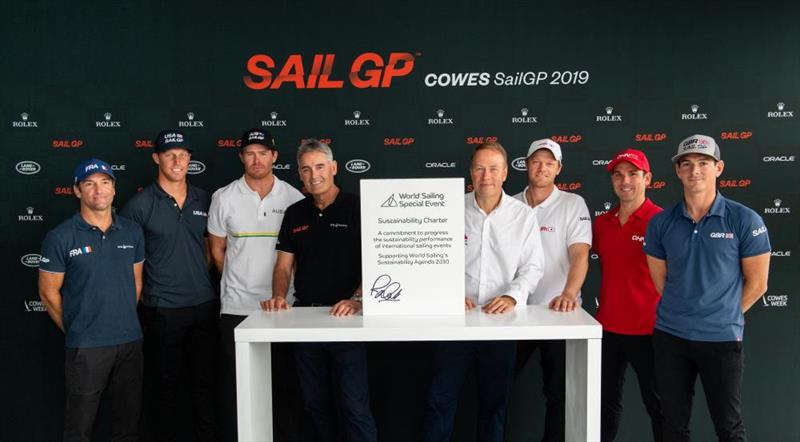 Sir Russell Coutts, Andy Hunt and SailGP skippers with a sustainability charter plaque made from recycled North Sea ocean plastic made in the UK © World Sailing

World Sailing today (Friday 9th August) launched its Special Event Sustainability Charter at Cowes SailGP to ensure world-class sailing competitions showcase the best of the sport and support World Sailing's 2030 sustainability programme.
The Special Events Sustainability Charter seeks to build on the momentum of sustainability initiatives that have been implemented by some of the Special Events in recent years.
As part of the Charter, all special events will have an overarching sustainability strategy, aligned enforceable principles set out in the 2030 Sustainability Agenda, and commit to working with World Sailing to accelerate goals and targets.
Click here to view the World Sailing Special Events Sustainability Charter.
SailGP is World Sailing's first special event to engage and activate through the Charter. Since its inception, SailGP has worked to develop a comprehensive sustainability strategy that aims to provide exemplary sustainability leadership across all of its operations.
For example, at Cowes SailGP, measures are in place to eliminate single-use plastics with reusable cups, bottles and refill stations. Event branding is 100% PVC-free and maximizes reuse from event to event, even down to reusable rubber bands in place of tie wraps. Even the volunteers' t-shirts are 100% organic cotton and fully recyclable. These initiatives were highlighted during a beach cleanup in preparation for the Cowes event, highlighting the need to turn off the tap on plastic waste and the use of worthless materials.
For a new organization, the attention to detail at SailGP is impressive right up to the establishment of a food charter with the provision of more than 50% vegetable menus and more than 80% local food (in a 25 mile radius). Used cooking oil powers the generators, reducing the carbon impact of temporary electricity supply by 80%.
In the longer term, SailGP has a program to consider the transition of its fleet of support boats to electric and hybrid vessels, in line with World Sailing's ambition for trainer boats in future Olympic events. SailGP also uses recycled carbon and recycled plastic bottles in existing boat tooling with plans to recycle all boat components into new products, on and off the boat in the coming year.
The new SailGP Inspire program aims not only to put young people on the water, but also, through Inspire Careers, to open up the industry to young people who would not otherwise have the opportunity.
SailGP CEO Sir Russell Coutts said: "Today is an important day as we seek to be among the leaders in our sport and support the delivery of the Special Events Charter, setting an example of what can be done – from big to small initiatives. The aim is to inspire others to follow our lead and share our experiences and learnings to drive sustainability in global sport."
Dan Reading, World Sailing's Head of Sustainability, said: "Special Events, as their name suggests, engage the global interest of sailors and sports fans. They provide a great opportunity to showcase the sport, the sailors and innovation, and they also have the opportunity to use their voice and resources to tackle some of the key sustainability issues that we can collectively work on.
"I am grateful to our current and past special events for helping to shape what we believe to be an exciting, industry-leading sustainability framework. The charter is part of the contracts to become a special event and we We will seek to publish progress and foster partnerships on key targets."

About World Sailing Special Events:
World Sailing Special Event status ensures that the world governing body officially recognizes and sanctions major international sailing events. Support of World Sailing with promotional and marketing activities, race officials, sailing racing rules, regulations and anti-doping and nationality rules.
The five sanctioned World Sailing Special Events include SailGP, World Match Racing Tour, Star Sailors League, PWA World Tour and the Global Kitesports Associations World Freestyle Tours.