World Sailing highlights message of revitalization on UN World Oceans Day
by World Sailing Jun 8 10:40 UTC
June 8, 2022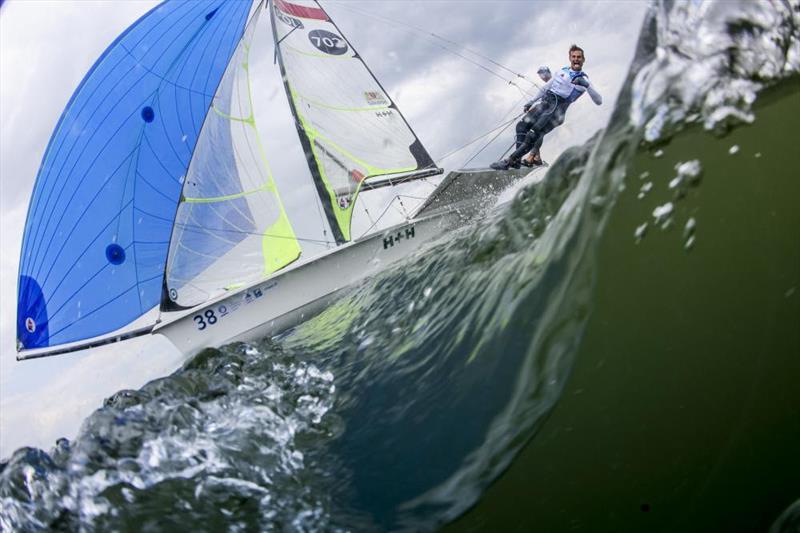 Hempel World Cup Series Allianz Regatta © Sailing Energy / Hempel World Cup Series Allianz Regatta

World Sailing, the global governing body for the sport of sailing, is marking United Nations World Oceans Day on June 8 by calling on the global sailing community to redouble their efforts to protect the environment nature and revitalize the oceans.
Sailing and sailors have a special affinity with the sea and this relationship is the driving force behind World Sailing's 2030 Sustainability Agenda, a bold ambition for sailing's contribution to global sustainability.
David Graham, CEO of World Sailing, said: "As a leader in sustainability, sailing has shown the value of working together as a sport to bring about change.
"Together with our special events and corporate partners, World Sailing is proud to recognize the sport-wide efforts to restore the oceans, provide long-term sustainability programs and educational resources while making significant progress towards materials more durable.
"However, we need to do more; and this year, on World Oceans Day, we are calling on sailors, sailing clubs, Member National Authorities, event organizers and our business partners to do all their best to make a positive contribution to sport and to our planet, now and in the future."
Alexandra Rickham, World Sailing's new Head of Sustainability, said: "We still have a long way to go, but sailing can be proud of the leading role it is playing in demonstrating that sport can take active responsibility. in protecting the environments in which we work and play.
"Sustainability is the main challenge facing the sport over the next decade and the solutions are in our hands – by working together, positive change is achievable."
Learn more about World Sailing's sustainability resources, from how to organize a world-record beach cleanup to using the Sustainable Sailing Clubs Toolkits and sustainable youth-focused educational materials in several languages, click here.
And see how global citizens, countries, the private sector and intergovernmental organizations are working to #RevitalizeTheOcean here. For more information on World Oceans Day and how to get involved, visit worldoceanday.org.

Promote sustainability
Together with our event organizers and partners, World Sailing makes sustainability a priority in all aspects of the sport.
World Sailing was a founder of the UN's Sports for Climate Action Framework and a signatory of "Race To Zero", committing to be net zero by 2050.

Special Event Charter
In 2019, World Sailing introduced its Special Events Sustainability Charter and our world class sailing competition partners have all committed to a global sustainability strategy and to working with World Sailing to achieve our common goals and targets.

World Sailing with partners on sustainability
In 2018, World Sailing partnered with 11th Hour Racing to recognize maritime sustainability success through the World Sailing 11th Hour Racing Sustainability Award. In each of the four years so far, the event has attracted over 100 registrations and 10,000 votes, showing the determination and creativity of the global sailing community to meet a challenge, be it environmental or social, and to sustainably advance the sport. The winner receives a cash prize of $10,000 to invest in their award-winning sustainability project.
11th Hour Racing is also a founding partner of the "Racing with Purpose" program created by The Ocean Race which contributes to the scientific understanding of the health of the oceans by using racing boats to collect data on sea surface temperature and ocean acidification.
In 2020, SailGP launched 'Race for the Future', the first climate-friendly sports and entertainment property, which aims to reduce the league's carbon footprint, champion inclusivity and champion clean energy. SailGP tracks and verifies carbon emissions in partnership with One Carbon World and offsets emissions by contributing to Blue Carbon's pioneering initiatives in partnership with the Worldview International Foundation.
SailGP has launched the Impact League for Season 2, a second championship parallel league of the season to monitor team performance based on the positive actions teams have taken to reduce their carbon footprint and accelerate inclusiveness in sailing. This is supported by the SailGP Clean Energy roadmap detailing its efforts to accelerate the transition to clean energy and be the most sustainable and focused sport and entertainment property.
In 2022, Foiling Week achieved special event status and brought to the fore the global foiling community's mantra "connect, cooperate, change". From the start, the event was one of the first. The first foil events for women and children; early sustainability initiatives reducing entry fees for carpool participants and the elimination of single-use plastics at the event site.
The SuMoth Challenge, which has been part of every Foiling Week since its introduction in 2019, has been shortlisted for this year's World Sailing 11th Hour Racing Sustainability Award. A global challenge, it brought together students from around the world to design, build and sail a sustainable Moth.
GAC Pindar, in partnership with World Sailing and its Member National Authorities, has developed a toolkit aimed at reducing the environmental impact of transporting boats and equipment as part of its long-standing relationship with World Sailing.
Hempel, official coatings partner of World Sailing and sponsor of the Hempel World Sailing Championships, has joined more than 1,000 international companies to reduce greenhouse gas emissions.
SAP, a long-time analytics partner of World Sailing, has launched its Chasing Zero Emissions program to help companies reduce their greenhouse gas footprint through integrated analytics. SAP has also been a strong supporter of the World Sailing Trust and its work on gender equality (strategic review of women in sailing), as well as providing Qualtrics to conduct the upcoming World Sailing Census which will further shape the way which we serve the sport of sailing.
Musto has developed high performance sustainable apparel while reducing plastic packaging, decreasing inefficiencies in the supply chain and employing an internal sustainability manager to oversee overall sustainability commitment of the group.
Virtual Regatta continued to support World Sailing and its vision of sustainability by creating bespoke "Race for Change" races to raise awareness for the cause during the Vendée Globe and create additional financial support for the World Sailing Trust.