World Sailing elections, AC75 images, Bermuda Gold Cup and eco-responsible sunglasses
by David Schmidt November 3, 2020 4:00 PM UTC
November 3, 2020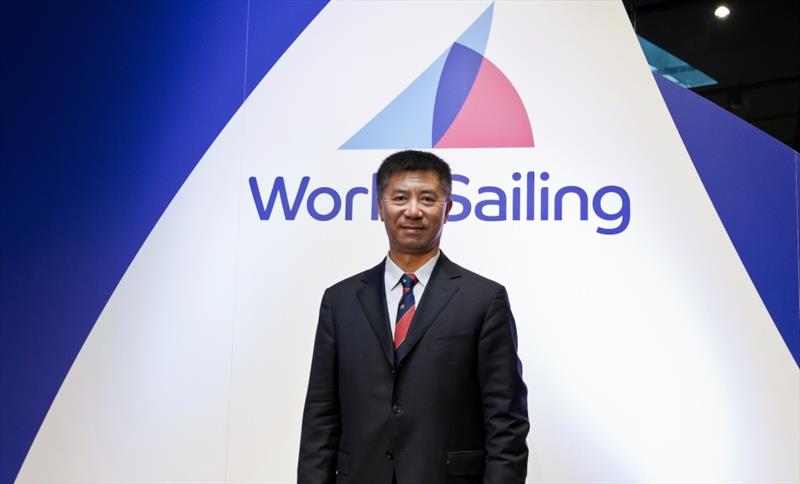 Quanhai Li (CHN) President of World Sailing © World Sailing

Regardless of his political leanings, it's fair to say that this is a great week for the United States and for the sailing world. For starters, Quanhai Li (CHN) was elected president of World Sailing, the international governing body for sailing, beating incumbent president Kim Anderson (DEN) in a run-off election (none of the four candidates in the first round only managed to contend for the 50-percentage margin needed to secure victory) which beat 68-60 among the 128 Member National Authorities who were eligible to vote.
In addition, seven vice-presidents were also elected. They are Tomasz Chamera (POL), Sarah Kenny (AUS), Philip Baum (RSA), Yann Rocherieux (FRA), Duriye Özlem Akdurak (TUR), Marcus Spillane (IRL) and Cory Sertl (USA).
"I warmly welcome Mr. Quanhai Li as Chairman of World Sailing; it is a great advantage to have already served eight years on the Board of Directors," said David Graham, CEO of World Sailing, in an official statement. "Our new Chairman is joined by a very strong set of Vice-Chairmen who have a wealth of experience as former Board and Committee members. The future of World Sailing is in very good hands and I look forward to working with our new World Sailing Board elected board is working incredibly hard and I would like to take this opportunity to thank the outgoing members for their tremendous efforts throughout their tenure."
In addition to electing a new president, it will be the first time that American Cory Sertl will hold the position of vice-president of World Sailing.
"It is indeed a privilege to serve the sport of sailing as Vice President," Sertl said in the same statement. "World Sailing has immediate challenges to address and resolve with finances and the delivery of sailing to the Olympics next summer. I look forward to working with my colleagues on the new Board."
Sail-World wishes all of these newcomers the best of luck in their new roles and hopes they will all work hard to make organized sailing even better in the future.
In the meantime, given the date, it's impossible to ignore the Vendée Globe, which is due to set off on the waters of Les Sables d'Olonne, France, on Sunday, November 8 at 1:02 p.m. local time.
While this race is one of the brightest spots on the 2020 sailing calendar, given both the quality of the skippers assembled and the boats and the still-raging pandemic, often harsh realities of 2020 have further impacted this solo, non-stop round-the-world race. France, like several European nations, has faced a sharp rise in Covid-19 cases of late, and the decision was made last week to close the race village to visitors.
Sail-World wishes all skippers participating in the 2020-2021 edition of the Vendée Globe safe, fast and healthy round the world voyages.
Action is also underway in the America's Cup world, where two major controversies are brewing (one involving the AC75's tilt mechanism design concept and patents, and the other involving the racing areas) just as the three challengers begin to sail on their new steeds.
Richard Gladwell, New Zealand editor of Sail-World and one of the few scribes and photographers with his sea boots on deck in Auckland, captured stunning footage of American Magic and Luna Rossa sailing in 15 knots of sea breezes on the Hauraki Gulf overhead on weekends.
UK-flagged Team INEOS also put their new steed through their paces, and the Kiwi-flagged Defender is set to launch its new boat in the coming weeks.
Much closer to home, on the waters off Bermuda, Taylor Canfield and his Stars + Stripes team (Mike Buckley, Victor Diaz de Leon, Mike Menninger and Eric Shampain) took top honors at the 70th Bermuda Gold Cup and of the 2020 Open Match Racing World Championship, beating Ian Williams' team GAC Pindar team (Christian Kamp, Gerry Mitchell and Richard Sydenham) in a footnoted victory with a penalty awarded by the referee against the GAC Pindar team.
"It's amazing. I can't thank my team enough," Canfield said in an official press release. "I put us through a lot of tough times this week and they got us out of almost every one of them. Thanks Bermuda for getting us here. We're thrilled to be racing again, and coming away with a win. is amazing. We are thrilled.
Williams, for his part, did not share Canfield's enthusiasm for how the regatta was decided. "It's very much a question of styles," he said in the same official communication from the regatta. "We try to keep the referees out of the game and [Canfield] likes to involve them, and it worked for him today."
The victory marks Canfield's third Bermuda Gold Cup victory (in addition to 2012 and 2018) and his second Open Match Racing World Championship, having won the latter in 2013 (note that the two events were combined this year in due to the pandemic). Along with lifting the King Edward VII Gold Cup and World Match Tour Championship trophy, Stars + Stripes raised $30,000 of the $100,000 purse.
At the same time, in the world of adventure racing, the International Association of Cape Horners has announced that it will officially keep a register of sailors who have completed official solo circumnavigations. Previously, this list was kept by Sir Robin Knox-Johnston (GBR), who was the first person to complete a non-stop solo circumnavigation when he won the Sunday time Golden Globe Race, which took place between 1968 and 1969.
To date, this list includes the names of 155 sailors who have completed non-stop circumnavigations and another 143 sailors who have completed single-handed circumnavigations but with stopovers en route.
"Listing all the sailors who have circumnavigated the world solo with or without stopovers has been a colossal task", estimates Jean-Luc Van Den Heede, winner of the Golden Globe Race 2018, and who has rounded Cape Horn ten times. . "It's a very important part of sailing history and I hope many more names will be added over time."
With a bit of luck, all the skippers at the start of the 2020-2021 edition of the Vendée Globe will also see their names added to this heady list.
Unfortunately, anyone circumnavigating these days is likely to encounter a fair amount of plastic detritus in the water during their journey, but there are organizations that are tackling this unsightly and potentially environmentally catastrophic reality, including The Ocean Cleanup. This Dutch-flagged non-profit organization, which was founded by Boyan Slat (who is currently its CEO), recently announced that it would make sunglasses (designed in California and made in Italy) from waste. recycled plastics that she has recovered. the Great Pacific Garbage Patch.
Even better, 100% of the proceeds generated from the sale of these sunglasses will help continue The Ocean Cleanup's efforts.
"It's amazing to think that just a year ago this plastic was polluting our oceans and now it's something beautiful, turning a problem into a solution," Slat said in an official press release. "Of course, The Ocean Cleanup is only here today thanks to our supporters, so I'm thrilled that these sunglasses are just another opportunity for everyone to be a part of the cleanup and help us maximize our impact."
For more information or to order a pair of these sunglasses ($199), point your web browser to products.theoceancleanup.com
Finally, a quick non-partisan reminder to all registered American voters from your friends at Sail-World that today is your last chance to vote in what is possibly the most important election of our lifetimes. If you do nothing else today, please participate in this fundamental responsibility of our democracy. The stakes are just too high to get this one up the rails without putting your muscles into the (metaphorical) pedestal that allows our country to peacefully and democratically elect our leaders.
May the four winds bring you safely home,

David Schmitt
North American publisher of Sail-World.com