World Sailing chooses four classes for single-handed "sea trials"
by Daniel Smith, World Sailing October 4, 2018 00:09 UTC
October 4, 2018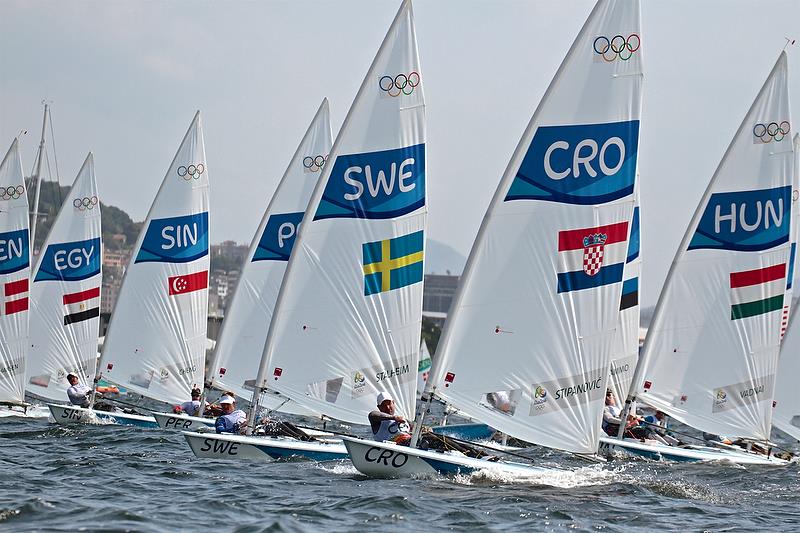 The men's laser is one of the great contributors to universality – 2016 Olympic Regatta, Rio de Janeiro © Richard Gladwell

Four boats have been shortlisted to move into the equipment trial phase as part of the men's and women's single-seater dinghy equipment re-evaluation process for the Paris 2024 Olympic sailing competition.
World Sailing received eight compliant bids and, in accordance with a procedure approved at the 2018 Mid-Year Meeting, the following boats have been shortlisted and will be presented to the World Sailing Board at the 2018 Annual Conference (in alphabetical order):
D-Zero, presented by Devotti Sailing sro
Sailboat Laser Standard and Laser Radial, presented by ILCA
Melges 14, presented by Melges Boat Works Inc., NELO and Mackay Boats Ltd.
RS Aero, presented by RS Sailing.
World Sailing launched the tender process in May 2018 which invited class associations and builders to bid for the men's and women's single-seat dinghy in accordance with World Sailing's Olympic re-evaluation policy, detailed in Regulation 23.6 and approved by the World Sailing Council at the 2017 annual conference in Mexico.
Click here to view the tender document.
World Sailing received eight compliant bids and the D-Zero, Laser Standard and Laser Radial, Melges 14 and RS Aero were shortlisted as those that closely reflect the technical criteria of the event – easy to sail monohull, split hull dinghy with different rig sizes for male, female and youth sailors.
Following the shortlisting, in Phase 2, World Sailing made site visits to the manufacturers to confirm the information submitted, after which an improved offer was requested from each of them to deal with the supply of equipment to large events, accessibility to the market by new manufacturers and the standardization of equipment between different manufacturers.
The Board Re-evaluation Working Group reviewed the bids and recommended to the World Sailing Board that World Sailing proceed with the selection of new equipment with the additional recommendation that existing equipment (Laser/ILCA) be included as a full option in the process. .
The Bureau discussed and approved the recommendation of the working group to proceed with the evaluation and testing of these four boats.
If this recommendation is accepted, equipment trials (sea trials) and evaluation will be carried out under the supervision of the Equipment Committee in order to comply with rule 23.1.3(e).
Following the trials and evaluation, a report will be made to the World Sailing Equipment Committee who will then make a recommendation to the Board on the final equipment selection.
The full process and procedure for the Olympic Equipment Re-Evaluation Procedure is available click here to view.
Click here for a question and answer document for the selection of the men's and women's single-seater dinghy.
Click here to see pre-selected offers for men's and women's single-seater dinghies.
Click here to view the Re-evaluation Committee's recommendation to the Board.