World Sailing appoints Alexandra Rickham as Head of Sustainability
by World Sailing 1 February 10:08 UTC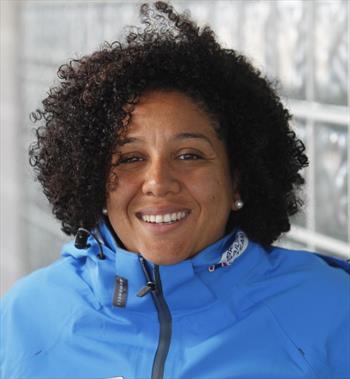 World Sailing appoints Alexandra Rickham as Head of Sustainability © World Sailing

World Sailing has appointed sustainability expert and Paralympic medalist Alexandra Rickham as its sustainability manager. Rickham brings extensive expertise in sustainability, diversity and inclusion as a sports executive and professional athlete.
Since transitioning from her decade-long sailing career, during which she won two Paralympic bronze medals (2012 and 2016), five World Championships and three World Cups, Rickham has focused on her passion for sailing. environmental and social change.
She joins World Sailing directly from sports sustainability consultancy Earth to Ocean, where she set up SailGP's sustainability program and later became Head of Diversity and Impact, helping the World Sailing League to achieve its ambition to become the most sustainable and sustainable league in the world. global sports and entertainment platform.
Rickham has also advised a host of other sports property clients during his time with Earth to Ocean.
She is well known in the global sustainability community as a public speaker, appearing regularly on Sport Ecology Group's Climate Champions and GreenSports podcasts, as a panelist for COPtimism and Sport Positive Summit, working with global sports stakeholders to accelerate climate action.
Rickham is also an advisory board member and ambassador for EcoAthletes, which brings together athletes, academics, climate scientists, ecopreneurs, green business leaders and journalists.
"World Sailing has made excellent progress on sustainability and diversity since the launch of the 2030 Agenda for Sustainability," said Rickham, who takes office in March.
"With goals for participation, gender equality, water quality, wildlife and biodiversity sailing and climate change action, World Sailing, as the world's leading sport, takes direct responsibility while working with many sailing organizations as a global force for change – these are exciting times!"
"We are all extremely delighted to have Alexandra on board to lead our 2030 sustainability agenda," said David Graham, CEO of World Sailing.
"As the founder of the United Nations Sports Climate Action Framework, World Sailing recently joined the International Olympic Committee and over 280 sports federations at COP26 to commit to the 'Race to Zero' campaign. United Nations.
"With Alexandra on board, we will deepen our work with our global partners to create a sustainable future for our sport and protect our environment for future generations."

About World Sailing and sustainability
In 2017, World Sailing launched its 2030 sustainability program and works with partners across the world of sailing and sport.
In 2018, World Sailing began its partnership with 11th Hour Racing, which works with the sailing community and maritime industries to advance solutions and practices that protect and restore the health of the oceans, recognizing the success of maritime sustainability with the World Sailing 11th Hour Racing Sustainability Award.
11th Hour Racing also works with the World Sailing Trust – a global charity supporting sailing and young sailing athletes, promoting participation and access, and protecting the waters for future generations. Two key projects focus on environmental sustainability training for young sailors and help sailing clubs reduce their environmental impact by creating targeted resources. Read more here…
Additionally, World Sailing and 11th Hour Racing share a collaboration with The Ocean Race, the world governing body awarding this pinnacle of sailing special event status and 11th Hour Racing as the premier and founding partner of the development program. sustainable.
World Sailing also works closely with Hempel – official coatings partner and sponsor of the Hempel World Sailing Championships – joining over 1,000 international companies to reduce greenhouse gas emissions.
SAP, a long-time analytics partner of World Sailing, helps companies reduce their greenhouse gas footprint through analytics integrated with the Chasing Zero Emissions program.
World Sailing is also helping to raise awareness of SailGP's 'Race for the Future' campaign, launched in 2020, and the first climate-friendly sports and entertainment property, aiming to reduce the league's carbon footprint, champion the inclusiveness and advocating for clean energy. SailGP tracks and verifies carbon emissions in partnership with One Carbon World and offsets emissions by contributing to pioneering blue carbon projects such as the goal to plant a billion trees and mitigate 500 million tonnes of CO2 of the atmosphere, in partnership with the Worldview International Foundation.