World Sailing and SAP bring Sailing Analytics to broadcasters, commentators and fans for the first time
by World Sailing 1 Oct 2021 05:56 UTC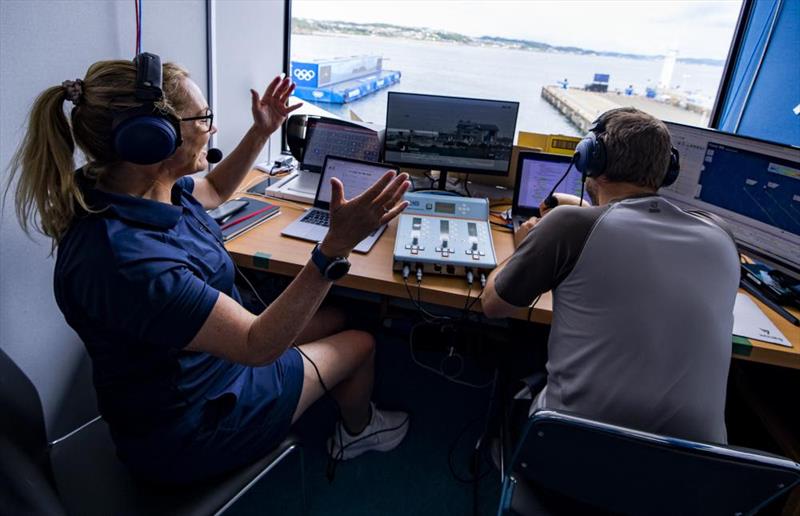 World Sailing and SAP bring Sailing Analytics to broadcasters, commentators and fans for the first time at the Tokyo Olympics © World Sailing

World Sailing and its long-time partner SAP recently collaborated to provide rights-holding broadcasters, their commentators and fans around the world with insights into real-time SAP Sailing Analytics data and analytics during sailing competitions. at the Tokyo 2020 Olympic Games.
This level of detail was not available before. However, for the global sailing community who closely followed the action on the waters of Enoshima this summer, SAP Sailing Analytics provided additional depth to live streams, wind-based rankings for greater accuracy in the race and the possibility for fans around the world to follow the races in real time with a wider range of statistics and information to exploit.
The new tools were introduced during Tokyo 2020 to great acclaim, marking the first time the power of SAP Sailing Analytics, the world's largest and most robust sailing database and platform, has been used at the games. The project brought together Swiss Timing, Olympic Broadcasting Services (OBS), SAP and World Sailing to deliver the upgrade, which was then distributed worldwide to Olympic broadcast rights holders and member national authorities.
More than 30 rights holders such as BBC, ZDF, SkyNZ, Eurosport and CBC, have harnessed the power of SAP Sailing Analytics to provide their commentators with more informed and detailed data and analysis that would improve their viewers' experience.
In addition to accessing live data used by broadcasters and commentators, rights-holding broadcasters used widgets on their websites that provided users with real-time data from SAP Sailing Analytics such as speed/direction wind, boat speed, gaps between boats and live rankings. .
Scott Over, Commercial Director of World Sailing, said: "Using SAP Sailing Analytics to improve the broadcast and viewing experience during the Olympic Games has added richness and depth to the coverage, analysis of post-race and the same high-quality "second screen". "the interaction that media and fans are used to at World Sailing events. Partnering with SAP has allowed us to bring this functionality to the Olympics and reach a global audience of millions. truly a historic achievement for the sport and we look forward to a widespread roll-out across more of our business in the months to come."
Alastair Fox, Technical Delegate and Event Director of World Sailing Tokyo 2020, said: "Sailing has the potential to become a fully immersive spectator experience and a data-driven sport. Using SAP Sailing Analytics to access real-time data enables audiences around the world to better understand and appreciate the sport, and we hope this will lead to further growth in sailing."
Olympic sailing commentary teams praised the extra insight and results were excellent from both OBS and produced record engagement figures for SAP. Previously, the highest number of unique users on SAP Sailing Analytics was just under 50,000 during the Sailing World Championships in Aarhus in 2018, while visitors to the platform exceeded 450,000 unique users during Tokyo 2020 It is also estimated that more than 250 million people worldwide watched the sailing events at the Tokyo 2020 Olympic Games, beating the figures published for Rio 2016.
"Using SAP Sailing Analytics during the Games gave me detailed insight into what was happening second by second behind the visual story and allows a commentator to see not just who is winning, but exactly why," said BBC sailing commentator Niall. Myant.
"It gives the opportunity to dig deeper into our sport with precision and the viewer gets the real story, and with it a deeper appreciation of why these athletes are the best in the world. More data is not enough, it must be collected and presented in the right form, as SAP Sailing Analytics does. If you want to know who is taking the lead over their rivals, it is just a click away. In the past, we would fear the complexity of our sport, but with this system, it's easy to show how hard these athletes are doing to win."
Virtually all sailors bound for the Olympics use SAP Sailing Analytics to assess their performance at the Sailing World Cup, as well as numerous European and World Championships. The increased transparency also improved the overall structure of the game, leading to a noticeable drop in post-race rule contention.
SAP and World Sailing are now focused on delivering more technology at the World Offshore Championships and World Youth Sailing Championships later this year, as well as planning for the implementation of the service at all international events in 2022.