SP80 – Swiss World Sailing Speed ​​​​Record tests its first prototype
by SP80 November 5, 2020 09:15 AM UTC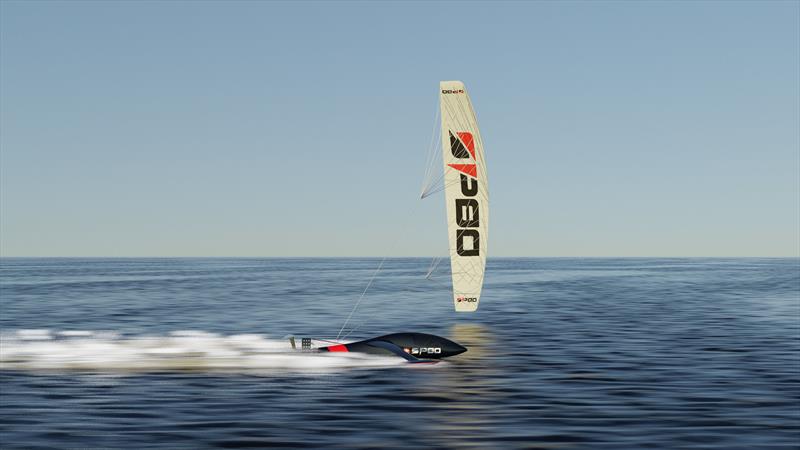 Rendering SP80 © SP80

A year ago, SP80 unveiled the design of its boat to break the world sailing speed record. Today the team, made up of more than forty engineers and students from the Ecole Polytechnique Fédérale de Lausanne (EPFL), is carrying out test after test on Lake Geneva with a prototype reduced to 1/2 of the final boat.
The launch of this prototype, measuring 4.5 meters by 3.5 meters, is a key development stage in the race for the record. It allows the team to validate certain concepts and launch the optimization process in anticipation of the construction of the final boat which will begin in 2021.
Mainly built as part of student projects within the Lausanne institution, this floating laboratory was intended to be modular in every way. Indeed, the SP80 team can quickly modify and test different configurations by changing hulls and appendages, which makes it a valuable learning tool in view of the record. The prototype is towed by a motorboat in a way that replicates the forces of a kitesurfing wing regardless of wind conditions. Benoit Gaudiot, co-founder and pilot for the record, controls the boat himself from the motorboat with a steering wheel connected to the prototype by a hydraulic piston. Beyond the experience acquired by developing a "feel" of driving the boat, a significant amount of data is collected on each outing to provide a basis from which to compare performance and improve the design of the scale model.
A dozen tests have already been carried out and the results, presented on video, are very conclusive for the team. They validate the latest simulations and demonstrate the stability and control of the boat at high speed. These qualities, essential for the record, were achieved thanks to a mechanical stabilization system invented and patented by SP80.
Several descents on Lake Geneva are still on the program for this end of autumn. At the same time, the team is looking for sponsors to balance its operating budget and is concentrating on preparing for the construction of the boat scheduled for 2021.

About the SP80
Created in 2019 by three engineers passionate about kiteboarding, sailing and speed, SP80 brings together more than forty EPFL engineers and students whose objective is to smash the current sailing speed world record. To do this, they have developed a boat with a unique design, futuristic, and powered by a kitesurfing wing. Today this young team shares the same passion as its 3 co-founders and is driven by the common desire to shake up the established codes of the world of sailing and to move it forward.