When designers come together to create something that looks fast, it usually turns out to be pretty fast too. The reverse is also true, this is exactly what we have with the SP80 sailboat, which seems to have been imagined by the team of star wars and is set to break the world sailing speed record next year.
As with so many precision engineering and manufacturing companies, whether in watchmaking or bicycle production, SP80 is a Swiss-based team. Since the company was founded in 2018, they've worked hard to design the world's fastest sailboat that looks less like the galleys that were launched after Helen of Troy, and more like an SR-71 Blackbird jet.
SP80 designed his sailboat to reach the dizzying speed of 80 knots (150 km/h), which, if it could be actualized in a real environment, would break the current world record of 65.45 knots (121.1 km/h ) which was set in 2012 by the Vestas Sailrocket 2. The vessel itself is around 10 meters long, with a pair of fin-like outrigger pontoons that measure seven meters from end to end.
---
---
RELATED: The advanced material that makes Richard Mille watches so exclusive
In order to keep it as sleek and aerodynamic as possible, the sailboat has no traditional mast or sail, but is powered by a kite blowing in front of the vessel. Due to this unconventional design, the ship requires two pilots, one of whom will steer the boat while the other pilots the kite.
As you would expect in what is effectively an ocean-going F1 race car, the ship's cockpit has been designed with reinforced kevlar elements that can withstand 50G of g-force. Featuring bucket seats, six-point harnesses and helmets for the safety of both pilots, it will also be the first sailboat with deployable oxygen masks in case of emergency.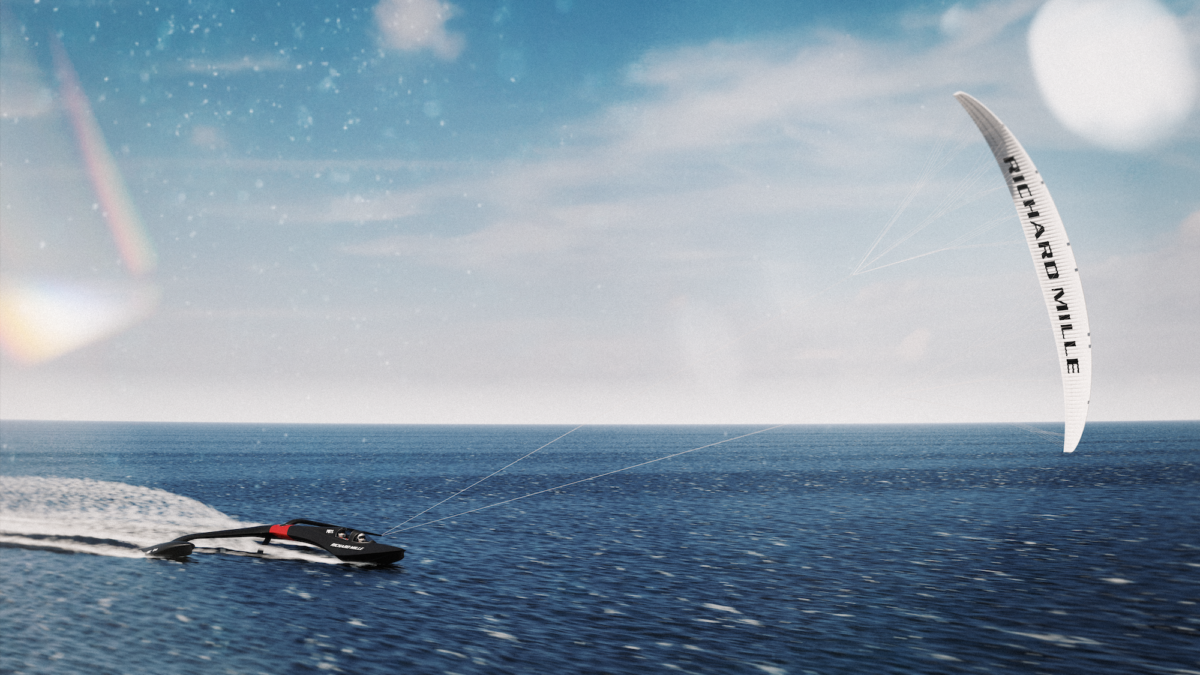 "2023 will be a decisive year, with the final preparations to break the 80 knot record and make sailing history," explained Mayeul van den Broek, co-founder and project manager of SP80.
"We are currently looking for the latest financial and technical partnerships to carry the adventure through to the end. The whole team is so proud to see this concept become a reality and we can't wait to unveil and finally test our final design on the water!
SP80 has already attracted sponsorship from watchmaker Richard Mille, a sophisticated manufacturer that actually uses high-end sailmaking technology to create its extremely robust watch cases. It's a natural choice for the two Swiss companies, as SP80 looks to lock in its end-sponsorship partners.
The final SP80 sailboat is expected to be fully built and launched by the end of 2022, with the first attempts at world sailing speed records due to take place around mid-2023 in the south of France.
---
---