Public vote open for the World Sailing 11th Hour Racing Sustainability Award
by Daniel Smith – World Sailing Nov 28, 2020 05:24 UTC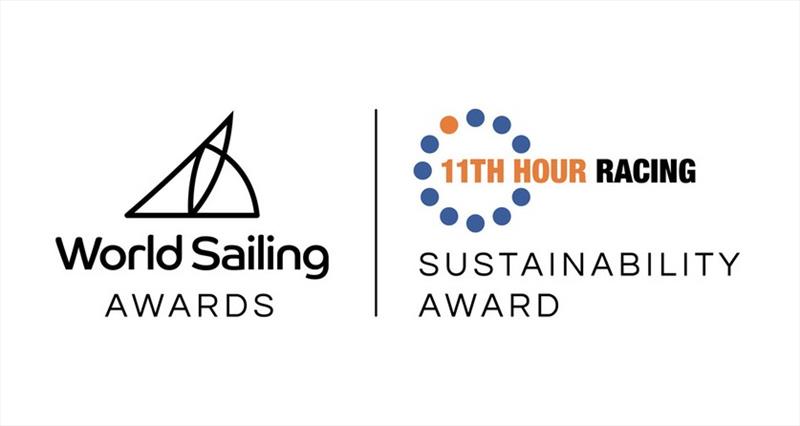 Open public vote for the World Sailing 11th Hour Racing Sustainability Award © World Sailing

Public voting for the World Sailing 11th Hour Racing Sustainability Award is now open.
The 2020 finalists showcase the depth of global sustainability initiatives within the maritime industry and include:
The Hyundai 49er, 49erFX and Nacra 17 (NZL) World Championship
MarkSetBot (USA)
Northern Light Composites (NLComp) (ITA)
Starboard (THA)
Vote here.
The World Sailing 11th Hour Racing Sustainability Award recognizes the effective execution or continued delivery of high-impact, highly repeatable sustainability initiatives aligned with World Sailing's 2030 sustainability agenda.
Public voting was first introduced in 2020 with voting open today [27 November] and until Friday, December 4.
The initial judging phase was led by Jan Dawson, World Sailing Vice President 2016-2020, Mike Golding OBE, World Sailing Sustainability Commission Chairman, Todd McGuire, 11th Hour Racing Managing Director, Julie Duffus, Head of Sustainability for the Olympic Movement, and Jalese Gordon, Emerging Nations Program graduate and Laser Radial navigator.
The winner of the World Sailing 11th Hour Racing Sustainability Award will receive a $10,000 prize to help them continue their sustainability activities, as well as an iconic trophy made from recycled carbon fiber from a boat in the America's Cup and infused with bio resin.
The winner will be announced on December 9.

About the nominees for the 2020 World Sailing 11th Hour Racing Sustainability Award:
The 2019 Hyundai 49er 49erFX and Nacra 17 (NZL) World Championship is one of only five regattas in the world to have achieved Sailors for the Sea platinum status.
Prior to the championship, a beach and bay clean-up was organised, which was joined by Olympic and America's Cup champions Peter Burling and Blair Tuke. A group of Sea Cleaners salvaged trash from the seabed, including car tires, chains, bottoms, fishing gear and pipes.
The event itself was paperless and eliminated single-use plastics. On site, only sustainably sourced food options were available, with compostable packaging and tableware. Nearly 60% of waste has been recycled and a carbon offset program has been put in place. Harmful cleaning products have also been eliminated and oil spills have been avoided.
Sailor education was at the forefront of the championship and 100 competitors and trainers took part in a clean beach and boatyard on the eve of the event. A sustainability award was also introduced and awarded during the awards ceremony.
MarkSetBot (USA) is the world's first robotic sailboat racing brand. It is an innovation that revolutionizes the way races are conducted, reducing the environmental stressors associated with sailing.
The all-electric brand can run an entire day on a single charge, reducing the need for fossil-fuel powered boats that are typically needed to set a racecourse. As such, the number of volunteers required to run the event is reduced and destructive seabed anchors are eliminated.
By empowering race committees to run clean races, MarkSetBot makes no sacrifices on race quality, setting precise courses that make course adjustments easy. MarkSetBots has been used by over 100 clubs around the world and has partnered with organizations focused on developing sustainable events including SailGP and the Yacht Club de Monaco Solar and Energy Challenge.
The goal of Northern Light Composites (NLComp) (ITA) is to create a new circular economy for the yachting industry, by manufacturing sustainable sailboats with technologies already used but innovative materials.
To achieve this, NLComp tests natural fibers, such as linen, bamboo or cellulose, in a thermoplastic resin to obtain a new type of sustainable composite.
The thermoplastic resin guarantees the complete recyclability of the composite at the end of its life or its reuse by thermoforming. In addition, natural fibers require much less energy to produce, with a considerable reduction in carbon footprint.
With smart design and engineering, NLComp aims to reduce the weight of the boats and therefore reduce the materials used, in order to satisfy the concept of the 3Rs (reduce, reuse and recycle). Combined with the already sustainable hull, they also want to reduce pollution while sailing, implementing an all-electric motor and the use of renewable energy.
Starboard (THA) is the leading manufacturer of Stand Up Paddle boards and windsurf boards, including the iQFOiL, the Paris 2024 Olympic men's and women's windsurfing equipment. They have applied a series of environmental measures to the whole manufacturing process.
Starboard takes every opportunity to reduce carbon emissions – and for the unavoidable carbon emissions emitted from the production of their products, they plant mangroves to absorb those emissions 10 times more for each board. For example, they plant ten mangroves for every iQFOiL tip, making each tip 100 times climate positive.
Additionally, Starboard has eliminated single-use plastic and uses recycled plastic whenever possible. Starboard's plastic compensation program allows them to recover 1.1 kg of plastic for each board produced. The cardboard bags are all made from recycled PET bottles, limiting the use of virgin plastic materials.