Northern Light Composites nominated for the World Sailing 11hr Hour Racing Sustainability Award
by Fabio Bignolini November 25, 2020 09:50 UTC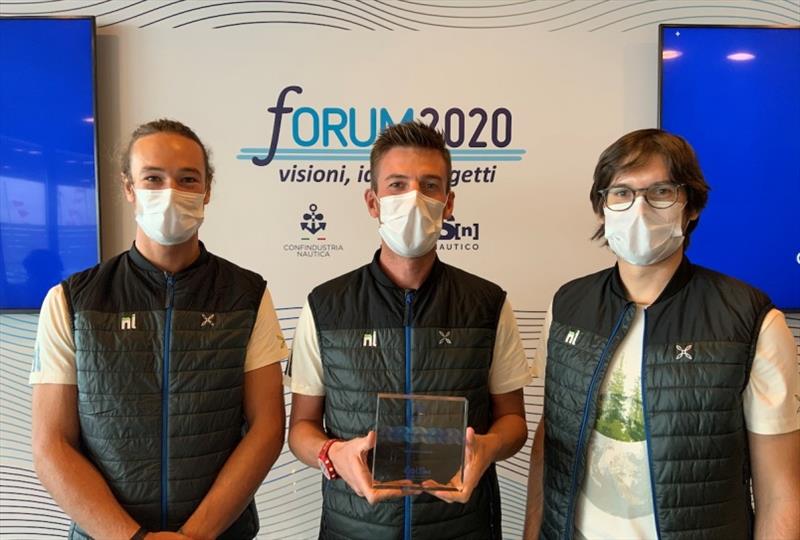 Northern Light Composites awarded at the Design Innovation Award at the Genoa Boat Show © Northern Light Composites

The recyclable boats of Northern Light Composites, which have just been awarded at the Genoa Boat Show, reach the international public and are one of the protagonists of the prize that World Sailing, the International Sailing Federation, together with the 11th Hour Racing Foundation, awards annually to marine-focused sustainability initiatives.
The innovative Italian startup presented to the world federation its ecoprimus and ecoracer projects – the first recyclable boats built 100% in linen and with a recycled soul – which were chosen by the jury for the ambitious objective of creating a new circular economy in boating, for the recyclability guaranteed by the thermoplastic resin and the choice to use natural fibres.
Alongside Northern Light Composites, on the shortlist of four candidates are also the 49er and Nacra17 World Championship 2019 held in New Zealand, the American MarkSetBot which offers robotic buoys and Thai Starboard boards.
The initial judging phase was led by Jan Dawson, World Sailing Vice President 2016-2020, Mike Golding OBE, World Sailing Sustainability Commission Chairman, Todd McGuire, 11th Hour Racing Managing Director, Julie Duffus, Head of Sustainability for the Olympic Movement, and Jalese Gordon, Emerging Nations Program graduate and Laser Radial navigator.
To support the nlcomp application, it will be possible to vote on the World Sailing platform from November 27 to December 4, 2020, while the winner of the Sustainability Award will be announced on December 9, 2020.
The winner of the World Sailing 11th Hour Racing Sustainability Award will receive a $10,000 prize to help them continue their sustainability activities, as well as an iconic trophy made from recycled carbon fiber from a boat in the America's Cup and infused with bio resin.
Members of the Northern Light Comp team are the three founders Fabio Bignolini, Andrea Paduano and Piernicola Paoletti, and the design team which involves Matteo Polli, Alessandro Pera, Mattia Sconocchia, Gianluca Salateo, Roberto Baraccani and Roberto Spata who will take care of ecoracer optimization.
Nlcomp's partners for the project are Arkema, which supplied the resin, and Armare, for the ropes. Montura is a clothing partner, while the technical partners are Shin Software, QI Composites, Eco-Technilin, Bcomp, Meg 3D Print, Onnit and AG Plus.