Nominations are now open for the 2022 World Sailing 11th Hour Racing Sustainability Award
by World Sailing Jul 28 15:33 UTC
September 2, 2022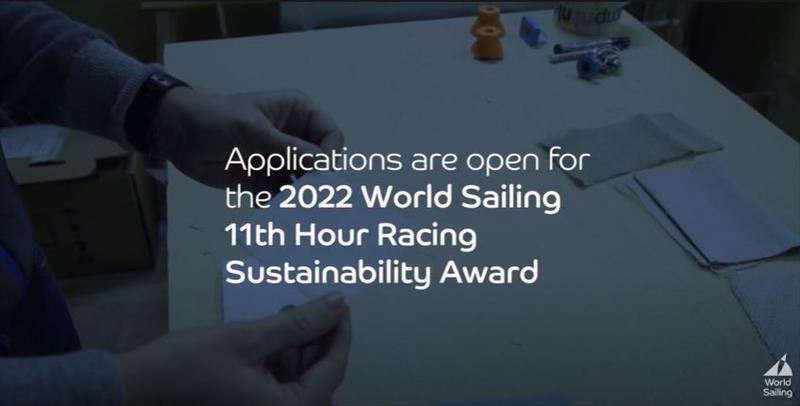 Opening of nominations for the 11th Hour Racing Sustainability Award © World Sailing

Nominations are now open for this year's World Sailing 11th Hour Racing Sustainability Award, the fifth edition of the highest recognition of achievement in marine sustainability.
The closing date for submissions is September 2. Submissions will be judged by a panel of experts chaired by World Sailing's sustainability manager, Alexandra Rickham, and four finalists will be announced on September 22.
From these finalists, a public vote will help determine the winner who will be announced at the 2022 World Sailing Awards on October 25, 2022, to be held during the World Sailing Annual Conference in Abu Dhabi. Winners will receive a $10,000 prize to continue their sustainability agenda.
See the World Sailing 11th Hour Racing Sustainability Award 2022 nomination form.
Rickham, sustainability expert and Paralympic medalist, said: "The World Sailing 11th Hour Racing Sustainability Award has become the most influential voice of sport's commitment to the people who work, play and live with the ocean. Each year the quality and variety of submissions show how dedicated the sailing community is to promoting sustainability, both social and environmental, in the sport and highlighted how everyone in sailing can make a difference. .
"Last year we received a record number of entries and many submissions have been successfully replicated in one form or another around the world. In line with World Sailing's 2030 sustainability agenda, we encourage organizations to sailing from around the world to share their achievements and submit their project so that the community can be inspired and further our mission to promote sustainability in every activity, event and initiative in which we are involved."
Alessandra Ghezzi, Communications Director at 11th Hour Racing, said: "It's always an exciting time when nominations open for the World Sailing 11th Hour Racing Sustainability Award – there is a real opportunity to create change by applying local solutions to global problems. This initiative, which we have sponsored since its inception in 2018, helps create new collaborations, turn ideas into real projects and advance sailing's contribution to global sustainability. We strongly encourage participation from all who are eligible – because you can all be the change that is so badly needed in our world today."
Launched in 2018, the award celebrates the implementation of high-impact, highly replicable sustainability initiatives aligned with World Sailing's 2030 sustainability agenda. World Sailing and 11th Hour Racing encourage entries from individual sailors, sailing clubs, events, classes, federations and the wider maritime industry, regardless of the size of their program or initiative. Past winners of the award have all demonstrated their commitment to reducing their environmental impact and raising awareness about conservation.

Past winners of the World Sailing 11th Hour Racing Sustainability Awards
The Corpus Christi Yacht Club (CCYC) won the inaugural award in 2018 following the success of the 2018 Youth Sailing World Championships. Driven by the dedication of CCYC's volunteer Green Team, the Youth World Championships was the premier sailing world championship focused on ocean conservation and sustainability.
The following year, the Royal Yachting Association (RYA) / The Green Blue won the 2019 award for their efforts to empower yachtsmen across the UK on sustainability by providing clear training and advice. on key issues.
Starboard has been named the winner of the 2020 World Sailing 11th Hour Racing Sustainability Award for its Plastic Offset program, recovering 1.1 kg of plastic for every board produced. Starboard reduces its carbon emissions and offsets unavoidable carbon emissions by planting mangrove trees 10 times for each board. World Sailing has created a case study of Starboard's efforts to inspire action around the world.
In 2021, the Sail Africa Youth Development Foundation received the award for increasing the participation of ethnically diverse seafarers and women in Durban, South Africa. Since its launch, the number of girls racing has increased and podium places have improved year on year, making sailing a much more multicultural sport. The program has doubled as a life skills initiative, ensuring lasting positive results in reducing poverty, reducing inequality, expanding education and raising environmental awareness.