International classes excluded from the closed World Sailing Mid-Year Meeting
by Richard Gladwell/Sail-World.com/nz Jun 24, 2020 09:37 UTC
June 24, 2020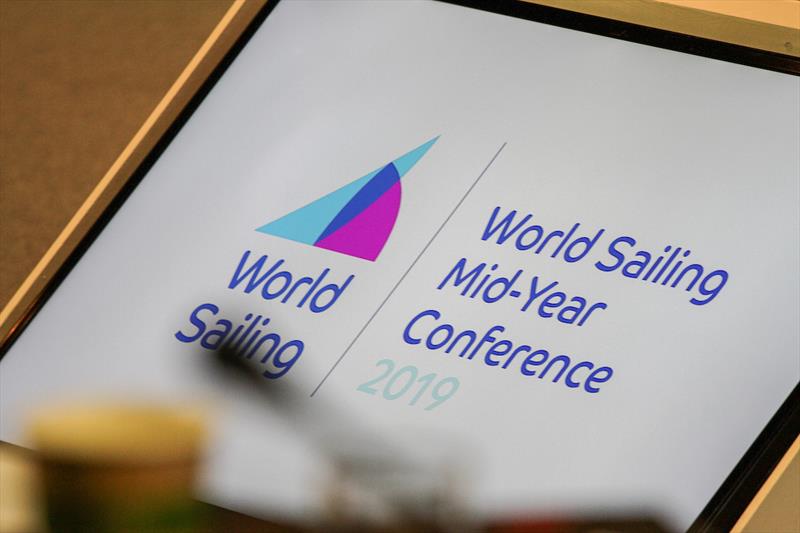 The World Sailing;s Council meeting at the Mid-Year Meeting in London, UK, on ​​Sunday May 19 © Daniel Smith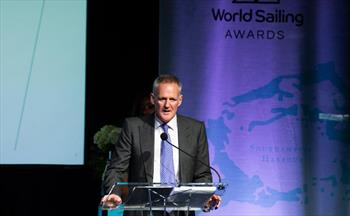 David Graham, CEO of World Sailing © World Sailing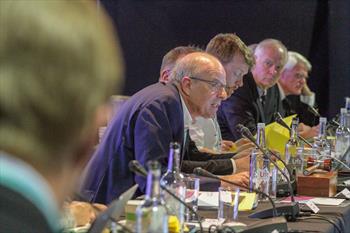 World Sailing's Council at the Mid-Year Meeting in London, Great Britain, Sunday May 19, 2019 © Daniel Smith

Besieged World Sailing held its mid-year meeting with a restricted audience and held the meeting using video technology for the first time.

Prior to the meeting, council member and chair of the classes committee, Markus Schwendtner, circulated a letter asking that the meeting be open to observers.
The meeting will generally be held in the UK and will consider the remaining matters from the previous annual conference and the annual general meeting, as well as any urgent matters requiring a provisional decision before the annual conference, which is to be held in Abu Dhabi in november.
None of the meetings will take place in a physical location and both will be conducted electronically, with electronic voting.
The open letter written by Markus Schwendtner is as follows:

Dear Kim, dear Council members, dear colleagues,

I would like to express my disappointment that the "mid-year meeting" of the World Sailing Council is taking place behind closed doors.
I raised the question as to why World Sailing Classes are unable to attend or at least listen to every "townhall" meeting. After all, World Sailing Classes are paid members, just like MNAs, and share the same interest as all other members – the best in sport.
I'm also sure that many members of the World Sailing Committee would have liked to attend and be informed "first hand" of what is happening in our fantastic sport. Instead, all of this information and discussion between the Board, the Council, the committee chairs and the chairmen of the deputies takes place behind closed doors.
You've chosen Bluejeans Events for today's call – software that allows up to 50,000 attendees to listen to at least what you have to say to the sailing world. We are not asking to talk and discuss – as in an "in person" meeting, this one is reserved for Council members (and MP chairs in this case). What we ask is to be able to listen and be informed first hand, as we would be if we met in person.
The technology is there. Please reconsider.
Good for you,
Markus Schwendtner Board Member Chairman of the World Sailing Classes Committee

The president of World Sailing replied:

Thanks for the email.

As you know as a Board member, part of the meeting is to discuss the confidential financial information that has been sent to you. This information cannot – at this time – be disclosed outside of the Board and Council due to the legal contracts we have signed.
This is only a short term situation – I expect to be able to share the information with all of our members, including classes, shortly. I know that a number of Classes may wish to attend the meeting and that is why World Sailing has a Class representative, chosen by the Classes themselves, on the Council.
The Board balances the need to be open and transparent with the Board and the need to maintain the trust of those with whom we enter into agreements. That's why we don't have a fully open meeting today – if we were to have a fully open meeting, we wouldn't be able to share confidential information with Council members, and I don't want that. I prefer to be able to share it with the Council. That's the only reason it's not fully open.
However – we intend to post the recording of this call online after the meeting with all references to confidential information removed. All stakeholders must therefore be able to listen to it. And very soon I hope to be able to share more information with all of our stakeholders – so a little patience and everyone will be fully informed.
The decision to open the meeting was supported by several class associations, representing the sailors directly concerned by the decisions and actions of World Sailing.
The global body has not publicly posted agendas or submissions on its website, as is common practice. Documents have been distributed to Board members and participants, and one can understand why the World Sailing panjandrums would prefer the mid-year meeting to be held behind closed doors. A redacted version of the procedure will be provided later. Whether that has any credibility remains to be seen.
World Sailing's finances are in red ink, following the postponement of the 2020 Olympic regatta and an expected payment from the International Olympic Committee as a dividend from the sale of television rights and other sources of income for the Olympic regatta.
The world body's finances are now heavily dependent on hosting the Tokyo 2020 Olympics in 2021 and paying at least £12m in 2016. It is unclear how much the IOC will have to contribute to the cost of the reconstituted Olympic Games, as well as the Japanese event organizers, and the impact of this financial transaction on the payment of the Tokyo 2020 dividend to the International Federations.
World Sailing's finances are also dependent on whether international sailing resumes in 2021 and whether it can charge a six-figure sanction fee for major events.
Neither scenario has a reasonable degree of certainty, and World Sailing's borrow and hope strategy is now at an all-time low.
The cancellation after a year of a four-year sponsorship by Russian petrochemical company Gazprom caused some financial discomfort for the board, which nevertheless signed a ten-year contract for premises in London's Paddington area at the prize of £300,000 per year. The November 2019 meetings were told that the lease would have to be paid for ten years if the decision was made to leave before the end of the lease.
World Sailing occupies an expensive echo chamber, in upmarket Paddington, with no real way out unless the landlord wishes to be accommodating, or a sublet can be found in a market awash with redundancy and cutbacks. workforce.
World Sailing's claims that they had little choice but to vacate the Southampton premises have been widely discredited, and Ariadne House is still vacant, three years after World Sailing left. Rent is quoted at £68,000 negotiable.
World Sailing has been thrown a lifeline by the International Olympic Committee, but that $3.2 million payment is just a loan and will have to be repaid, hopefully from Tokyo 2020 proceeds. other loans were contracted against the World Sailing Trust with reservations. funds of less than £3m (pre-COVID) – sufficient for one year of spending at the current rate of cash burn.
No other International Federation has announced a payment from the IOC reserve fund of €900,000. Senior IOC members have expressed dismay at the degree of reliance of IFs on the Olympic dividend – which should be used for the development of Olympic sport and talent, not to offset the administrative overhead of a FI. The IOC will ensure that it does not "reward" spendthrift International Federations before Commissions who have exercised good management of their income and expenditure and have lived within their financial means.
While COVID19 has sharpened the focus on World Sailing's financial troubles, the situation has been building for several years, not helped by a £5m sponsorship shortfall over the past three years.
Many of the current staff have been made redundant, have taken pay cuts and World Sailing is receiving significant wage subsidies from the UK government. In short, World Sailing occupies premises well beyond its needs, and which are located in one of the most expensive business districts in the world. The board approved a series of business decisions that turned out to be less than prudent. A governance review commissioned by the board cost £300,000 and failed by a significant margin to gain the support needed to replace the existing governance process. An IT project costing the same £300,000 has also been commissioned by the Council and is now on ice.
A total of £1.7million was spent on "one-time items" according to information provided at the 2019 annual general meeting and conference.
At the start of the current Board and Chairman's term, World Sailing had a cash surplus of £600,000, a dividend of £12 million from the 2016 Olympics, all of which disappeared and with the organization in last November, it forecast a shortfall of £1.3m in two months in August 2020, and before the financial effect of COVID kicked in. This is a change in financial circumstances over the course of the current quadrennium, £14 million and pre-COVID19 expenditure. There are no tangible residual assets that can be offset by these expenses, which seem to have been entirely spent on consumption.
The status of the Events proposed for the 2024 Olympic Games remains to be confirmed, given that 50% of the events are set to change, and that four of the ten classes selected have not yet organized a world championship. This is yet another hospital pass for the new president and board.
Elections for a new board of directors and a new president are due to take place at the end of 2020, by electronic vote, instead of the scheduled meeting in Abu Dhabi. Several strong candidates are expected to be nominated, and the incumbent will be challenged by at least one strong candidate, with a strong classroom and sailing administration background coupled with a diverse business background.
A new CEO has been appointed. He comes from a strong background in the marine and sports industry, including events, and is highly rated within his large peer group.
Whether it has the ability to steer a heavily indebted World Sailing out of stormy red seas and into calmer, blacker waters remains to be seen.