First Youth Para Sailing World Championships mark investment in the future of para sailing globally
by RS Sailing May 1 15:35 UTC
July 19-22, 2022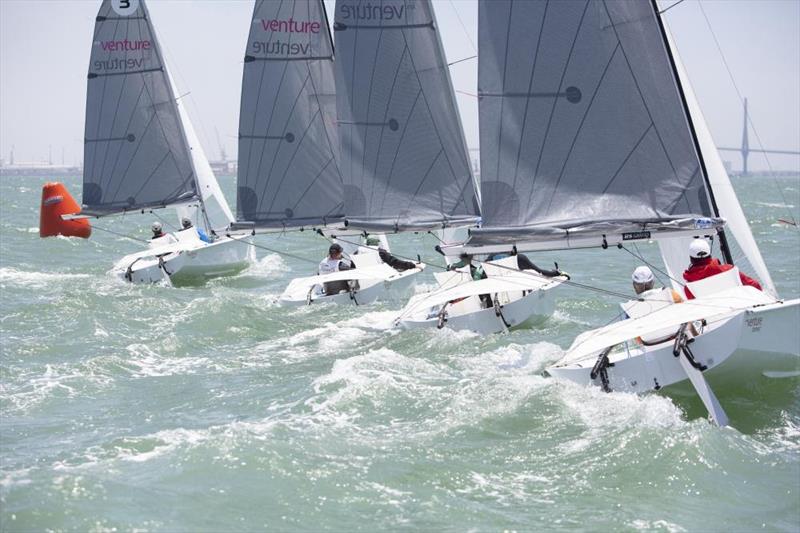 The U25 Para Sailing World Championship has been announced © Miguel Paez / World Sailing

RS Sailing is proud to announce that its award-winning RS Venture Connect sailboat, an existing class of Para World Sailing equipment, has been selected by World Sailing as the supplied equipment of choice at an exciting new Para World Sailing event aimed specifically at young people. sailors. .
The inaugural edition of the Youth Para Sailing World Championships, which also aims to have a fully gender-balanced participation with regard to the athletes competing, will take place on the waters of the Braasemermeer in the Netherlands and will begin the week after the The Hague-based 2022 Youth Sailing World Championships conclude July 19-22.
Commenting on the news, Dan Jaspers, International Sales and Business Development Manager for RS Sailing and Manufacturer's Representative for the RS Venture Connect Class, said: "This is truly exciting news for all of us who have not only supported the campaign to reinstate sailing in the Paralympic Games, but also to develop Para Sailing on a global scale.The concept of organizing an international Para Sailing event for young people was long discussed but never realized.This event was designed to meet a very real need, identified by many within the international sailing community regarding the current lack of a clear "pathway" for Parasailors.Unlike Olympic sailing which clearly identifies the events that sailors should participate in to gain the experience needed to advance their skills as well as my ure their "level" against others in the same type of equipment, Para Sailing has only had, at least until relatively recently, the Para Sailing World Championship event at which nations with para sailing programs could compete internationally."
Registration for the 2022 World Para Youth Sailing Championships can be done through the dedicated online registration portal. Entry is limited to one team per nation and all teams must have the endorsement of their National Parasailing Federation and/or World Sailing Member National Authority (MNA) in order to participate.
Massimo Dighe, Para World Sailing Manager at World Sailing said of the news: "As seen in regattas around the world, Para Sailing is one of the most inclusive in terms of age, gender and race. This World Championship is another step in ensuring that there is a pathway for the next generation of para-sailors, from grassroots to elite level, providing a means to compete on the world stage – indoors and outside of the Paralympic program."
Following discussions held by members of the Para World Sailing Committee (PWSC) at its 2021 World Sailing Annual Conference meeting, regarding the potential for a youth-focused international Para Sailing event, which will go a long way in supporting IPC requirements for more young people. activity in all Para sports, RS Sailing, on behalf of the RS Venture Connect class, approached World Sailing with a proposal that would allow a so-called 'plug and play' event to be held specifically for young Para sailors, at a similar time to and from a location in the Netherlands close to where the 2022 Youth Sailing World Championships would already take place. After a period of discussion between members of the Para World Sailing Committee, RS Sailing, the hosts of the proposed event and a number of national Para Sailing organizations who had already expressed the wish that an event such as this be organized, World Sailing agreed to sanction this proposed event and, as such, the inaugural edition of the Youth Para Sailing World Championships went from concept to reality.
Asked about the likely impact of the announcement of this event on Para Sailing as a whole, Dan Jaspers commented: the objective of this work being primarily to increase the number of nations actively engaged in para sailing activities, no formal emphasis has previously been placed on providing a starting point for aspiring para-marines looking to one day represent their nation on the international stage, let alone at the Paralympic Games level For me, having initially developed the concept of the Paralympic Development Program during my time as Head of Training and Development at the International Sailing Federation (ISAF) as World Sailing was called at the time, I am excited to hear the news that an event of parasailing dedicated to young people is finally organised. I'm sure I'm not alone in thinking that this news signals a shift in the world of Paralympic sailing… a shift that can only bring positive results for everyone involved, whether whether he is reinstated in the Paralympic Games or not!"
As part of its continued commitment to developing para sailing internationally, World Sailing has confirmed that it will be hosting a Para Development Program training clinic prior to the Para Youth Worlds event on the weekend of 16- July 17. Nations deemed by Para World Sailing eligible to participate in this clinic will receive travel and accommodation grants for up to 2 sailors and a coach to reduce barriers to participation. Entry fees for the Para Youth Worlds will also grant participants access to the fleet of RS Venture Connect sailboats provided by RS Sailing as charter boats for the July 18 event for an additional day of training at running with a coach.
Watch this video from World Sailing:



RS Venture Connect
The award-winning RS Venture Connect SCS enables almost anyone to sail – and that means a lot to all of us at RS. Many boats have been modified for para-sailing, but we like to think the RS Venture Connect SCS brings a new level of sport-engineered and engineered adaptability, thanks to simple plug and play options, including what it's called "sip-and-puff". electronically assisted controls that help configure the boat to suit sailors with most types of disabilities. The systems on the boat also allow the end user to change the configuration between boating sessions to meet different requirements. This versatility is encouraging more parasailing organizations to develop parasailing programs with more expensive multipurpose rigs and simple systems used to adapt equipment being more time efficient.
Find more detailed information about the RS Venture Connect here…