Olympic Games 2024: are kite boards legitimately part of World Sailing?
By SailingIllustrated.com/Sail-World.com April 22, 2018 11:13 PM PDT
April 23, 2018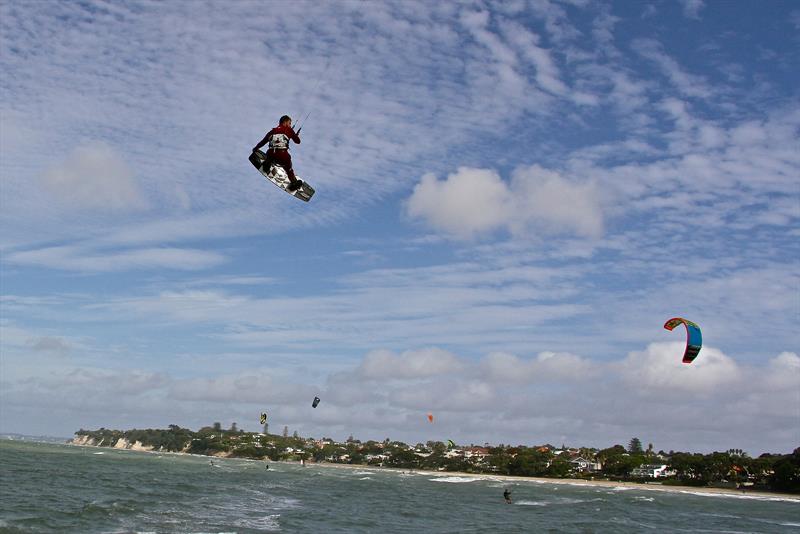 Flying High – Kitesurfing – March 22, 2016 © Richard Gladwell
Rules and America's Cup guru Tom Ehman wrote an interesting comment on sailingillustrated.com.
Ehman was executive director of what is now US Sailing at the age of 26 and first became involved in the America's Cup in 1980 (as judging secretary), he also served on of several Olympic regatta juries, served as an international judge and umpire – directing much of the early work with the development of umpiring – and was the United States representative to the IYRU at the time and served on various roles and task forces, including the Events Committee (where the 2024 Olympic event slate is being formulated. He was an advisor and rules advocate for Star and Stripes during the New York Supreme Court hearing in 1988 on the Big Boat vs the Cat case, which revolved around the meaning of the word "Match" and in the 2007-2010 NYSC case for Golden Gate Yacht Club v Société Nautique de Genève – which revolved around the meaning of the word "have" (reversing a decision e n 1996 by the America's Cup Arbitration Panel).
The parties he represented in 1988 and 2010 won their two trials.
In this commentary, Ehman examines the meaning of the word "sailing" in the context of the world sailing body, and whether it was ultra vires to accept the inclusion of kiteboarding/surfing under the World Sailing umbrella.
One of Ehman's strengths in the 1988 and 2010 America's Cup cases was that, given his sailing rules and various administrative backgrounds, he could apply a "navigating context" perspective. "to the various legal arguments advanced in the GGYC/SNG case in particular, which highlighted the practical impossibility of what were presented to the Court as seemingly persuasive legal advice.
The GGYC/SNG cases were only truly resolved after the NYSC assembled a panel of experts (of senior sailing judges) who, on the whole, agreed with the GGYC's positions on the points business keys.
Sail-World obtained an informal legal opinion (from a lawyer who also had a strong America's Cup background, on the other side of Ehman – but who did not follow the debate on the Olympic events) . The opinion concludes that under English law sails are not so much the decisive issue but that a board is not a hull and that, on this basis, windsurfing and kitesurfing do not come under World Sailing without a constitutional change.
Tom Ehman writes on sailingillustrated.com:

By definition, kiting is not sailing; if kiteboarding is to become Olympic, and it should, it must have its own federation

World Sailing is in the process of deciding the 2024 Olympic classes for the ten medals currently awarded to sailing by the IOC. You can call them "events" or "disciplines" or "equipment" (IOC technical terms) or classes; Ultimately, WS chooses which classes will be sailed in 2024, and everyone involved knows that.
The IOC calls our sport Olympic sailing. It used to be called Olympic Yachting, but that changed in the 1990s when many national governing bodies, mainly for egalitarian reasons, changed their name from sailing yachting (US Yacht Racing Union became US Sailing; the Association Yachting Canada – you may have liked their abbreviation "CYA" – became Sail Canada, to name but two). In turn, the International Yacht Racing Union changed its name to the International Sailing Federation, and more recently to World Sailing.
Kiting (kite-surfing, kite-boarding, foil-boarding, kite-foiling, snow-kiting, call it what you want) has at least one international federation. The International Kiteboarding Association is currently linked to World Sailing. As you can see on their website (graphic below), they have three disciplines: Racing, Expression (acrobatics, judged like gymnastics and figure skating) and Snowkite. In each of these disciplines, there are 4 to 5 divisions….
Before deciding what the ten sailing classes will be in 2024, World Sailing must decide whether kiteboarding should be allowed in the Olympics as a sailing event, thus winning at least two of only ten sailing medals.
There are many arguments, mainly commercial ones, on both sides of this question. However, there is a simple and strong argument as to why kiting does not belong to World Sailing and, therefore, not to the Sailing Olympics.
If there were to be another AC Deed of Gift match (God forbid!), and someone showed up with a boat using a kite for propulsion, would that fulfill the requirement of the act for "a yacht or vessel propelled solely by sails"?
As many of our readers know, I was the rules advisor to what was then BMW Oracle Racing for the 2010 America's Cup. We looked into whether a kite could be used with the trimaran BOR 90 (120 feet LOA). I strongly advised against it. Why?
Because the definition of "sail" in virtually every dictionary and in practical usage is "A piece of material stretched on a mast to catch the wind and propel a boat, ship, or other vessel."
On the other hand, various dictionaries' definition of a "kite" is "A lightweight frame covered with paper, cloth, or plastic, and designed to fly through the air at the end of a long string." (SW: There are other definitions, such as a light aerial sail; a bird of prey etc. and the Collins Dictionary www.collinsdictionary.com/dictionary/english/kite gives 11 meanings of the word as a noun and verb)
If our AC team had flown a kite on the end of a long string, we would have been ridiculed by the New York State Supreme Court and the trophy would have gone to SNG/Alinghi. A kite is not a sail. Therefore, kiting is not sailing – whether in a parking lot, on snow or on water, and that some water kiting competitions use some of our sailing rules.
Additionally, the first sentence of the World Sailing Constitution states: "The objects and purposes for which World Sailing, as the controlling authority for the sport of sailing in all its forms throughout the world, are…."
World Sailing is not the controlling authority for "kiting in all its forms" although it tries, for purely commercial reasons (i.e. television, follow the money!), to control Olympic kiting and Olympic kiters/riders.
If World Sailing continues on this kiting path, it means taking away two medals from legitimate sailing classes. Many kiters also claim that they would be better off as a separate federation, especially those (and there are many) who kite on dry land and snow, or on water in the "expression" discipline for which World Sailing has no experience. , no rules, no events, no judges, nada de nada.

[S-W/NZ: There is a second world body for Kiteboarding – not recognised by World Sailing – insidethegames.biz with several other interesting stories backgrounding these issues.]
Because it's not sailing, it's kiting.
In conclusion, Tom Ehman says he strongly believes kiteboarding should be part of the Summer Olympics, Winter Olympics, Paralympics, Extreme Games, Urban Games, etc. But not like what seems to be to the short and long term detriment of sailors and kiters.